Electronic Flyer Delivery

Klamath Falls City Schools uses Peachjar to make sure parents have timely information about important school-approved programs in the community like soccer, baseball, basketball and other after school sports, tutoring and academic support, arts, scouting, college savings plans and more. Digital flyers are sent to parent's email, and flyers can also be viewed on their school's website.
Once you enroll your child in school, you will automatically begin receiving Peachjar flyers. If you are not receiving these flyers in your inbox, follow the instructions below to manually add your school to your Peachjar account.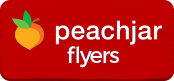 Flyer Approval and Distribution