Roosevelt Elementary School and Conger Elementary School students met for a friendly competition this past Monday at the Conger gymnasium.
It was a rare sight to see the two schools faceoff and did so during a nationwide program called, Battle of the Books.
America's Battle of the Books is a reading incentive program for students in third through 12th grade.
Students read books, come together, typically in groups, and demonstrate their abilities and knowledge of books they have read.
The structure, format and rules may differ depending on the educational goals, student needs, local resources and personal preferences at various school sites.
Conger teacher Ashley McPherson and Roosevelt teacher Jennifer Laitinen have helped bring the reading program to their school's. McPherson and Laitinen helped put together the event at Conger and setup championship reading competition's at each of their school's this past Thursday. Students will then have the chance to compete in regional competitions.
"They are two teachers who have dedicated countless hours to this program and our students. Both ladies are passionate about working with our youth and wanting to share a love of reading with them," Conger Principal Sara Johnson said.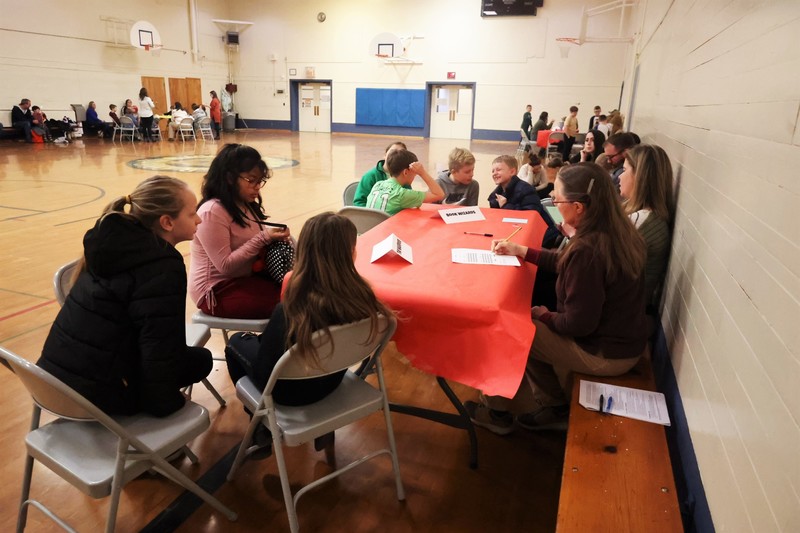 The day was filled with a round robin format for the students to compete in, and had six teams overall. The day was a chance for students to familiarize themselves with books they have read or are reading in school.
There were different rounds in the competition, with each passing round becoming more difficult.
Each team had a spokesperson, who was the only person who was allowed to bring forth an answer.
If a team does not answer a question correctly, the opposing team gets a chance to steal to earn points. They then have 15 seconds to answer the question.
Depending on how stern the moderator is, students have to answer with the full name of a book, and do not get full points if they fail to mention the author's name.
The competition was not as simple as naming book titles and authors as questions included specific occurrences in the books, dates, characters or quotes.
During the final rounds, moderator's asked what is referred to as content questions, in which students had to be specific in their answers. If they miss a detail or the answer is not complete, they are not awarded points.
In a sanctioned Battle of the Books competition students can, however, be clever and challenge an answer they believe is right if they are able to point it out in the actual book.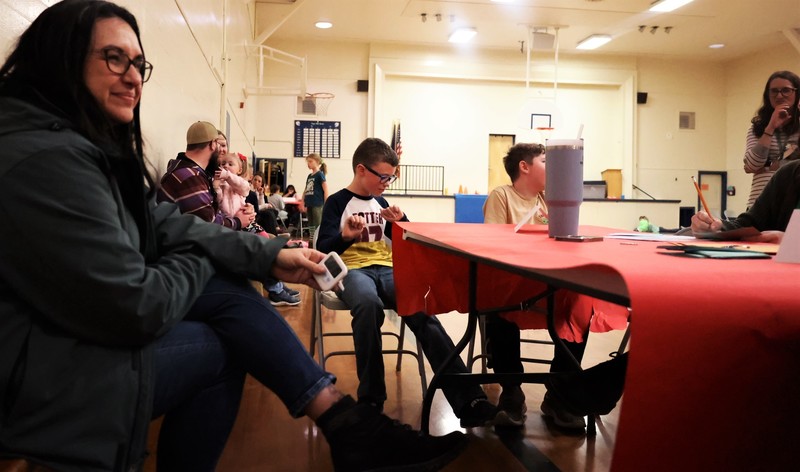 Braydon Henderson was part of one of the Conger teams, which won all of their faceoffs.
"Our first round, it was four points that we won by but after that, we were confident and won the rest. I learned some of the rules that you have to say what they want you to say for the book, not what the book is actually called, for some of them," Henderson said. "I have not read all of them. I studied them after and it was great to get to learn other books."
Of course, countless of books were mentioned, including Spark by Sarah Beth Durst, the favorite book of Roosevelt student, Zach Daniels.
"It was really cool you got to be on a team. Some of my friends are on there and we have been practicing to learn the books more. We have been memorizing authors and going through the books to remember them," Daniels said. "I liked the competition and how you get eliminated if you do not get it right. I learned a lot today."