Angel Ramirez has just started his journey as a Klamath Union High School student but has already left a large shoe print in the dirt.
At only 14 years old, Ramirez has found his drive and passion but has decided to take on an activity many people his age would be terrified to do. No, Ramirez does not want to be the point guard of the basketball team, the starting quarterback on varsity, or on the top of the baseball mound. He wants to be a boxer.
Even with the rise of cases of people having post traumatic stress disorder, the young Pelican is not afraid of being a part of one of the most grueling and challenging individual sports around.
To be said lightly, to be a successful boxer, your six senses need to all be intact and you have to be aware of the situation you are in or might put yourself in. A boxer can lose their focus in a mere second that can cost them a match.
Ramirez started from ground zero. He first took on the sport a year ago as a leisure activity after his older brother, Alen, asked him to tag along for a boxing practice at Weapons Grade Academy of Boxing and MMA.
Ramirez thought he was only going to sit and watch but realized there was something unique waiting for him inside the gym.
"Right when I stepped in here, I fell in love with the sport," Ramirez said. "I did not expect it but knew it was something I wanted to do from that very first day."
Not everyone who takes on boxing wants to be the next Mike Tyson or Floyd Mayweather Jr.
A lot of people take on the sport or any mixed martial arts because, simply, they want something to kick or punch. The rush and adrenaline they get when they release their anger relaxes them.
Being a new puppy in the sport, Ramirez only wanted to grow and improve.
Before he took on any contact, he had to learn to work on his foot work and struggled maintaining a consistent and proper way of jump roping, which is vital for a beginner. Ramirez wanted to learn the proper form and not simply exhaust himself throwing impactful punches. Many people in the boxing academy recalled having aches, muscle soreness and even injuring themselves by going until failure.
"I remember asking myself how was I going to get better," Ramirez said. "I am pretty bad right now, but I kept doing it."
It took him three months to perfect his jump roping ability. The key was to use light jumps during the exercise and not use the entire body when jumping.
The same technique he learned, he also took with him when he learned how to throw accurate and effective punches. He worked on making his legs stronger, realizing it is one of the contributing factors in landing a powerful punch.
The trick was using the force of his legs to carry him into a punch.
The time came for him to have his first sparring session (a one-on-one contact exercise), one the young high school student will never forget. Ramirez took a blow on the nose and gushed out blood.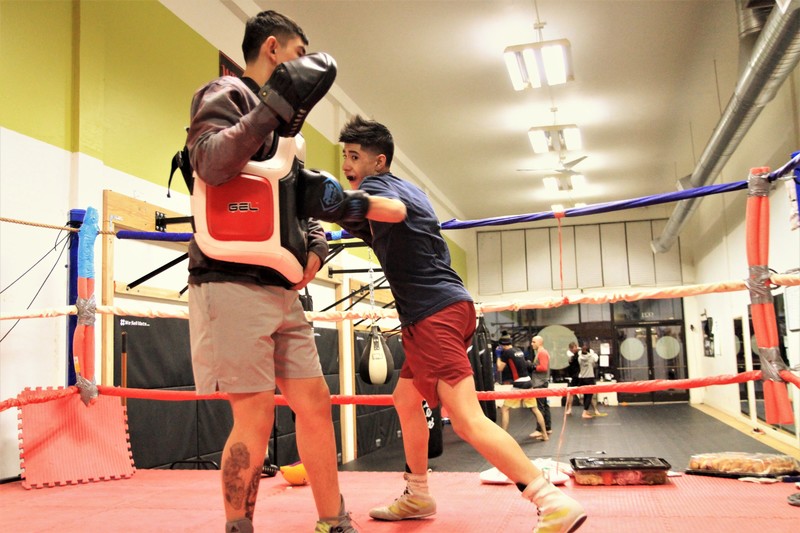 Angel Ramirez, right, boxes with his older brother, Alen Ramirez, during a training session at Weapons Grade Academy of Boxing and MMA in downtown Klamath Falls.
Many teenagers in his place would have bowed out, likely shed a tear and gave up on the sport due to their embarrassment or the pain. Ramirez was not like one of those kids.
He bit his tongue, kept his head up and returned the blow, even knocking out his opponent's mouthpiece in the process.
"From the first sparring, you can tell if someone is a fighter or if they will be passive," Alen Ramirez said. "Most kids would cry after the first hit and most kids would stop. He came back, hit the kid back. He kept getting hit but kept going forward."
Bringing the community together
Angel Ramirez was the first teenage boxer to come to Weapons Grade Academy of Boxing and MMA. While in eighth grade at Ponderosa Middle School, he walked into the academy being the only one his size and weight.
Everyone else he saw at the gym, earned their stripes, having decades of martial arts experience or time in the ring.
He knew he had to get more youth into the doors. Ramirez reached out to some of his friends and classmates, and even recruited a former friend who used to spend time boxing and encouraged him to give it a second try.
Little by little, more teenagers began to arrive and sparked a youth class to form, which now meet three days a week. Several Klamath Union students are a part of the movement.
Boxing debut
After more than a year of training and preparation, Ramirez will finally step into the ring for his first boxing match. His first fight ever will be Feb. 18 and 19 in the Oregon Golden Gloves Boxing Championships in Medford.
The competition will put him in several boxing matches to see if he is able to come away with a trophy. Along with his brother, Ramirez is trained by Juan Ulloa, who has developed several boxers in Klamath Falls.
Ulloa has helped local boxer Dylan Carlson compete in fights around the country, even helping him earn a fight against the son of International Boxing Hall of Famer, Evander Holyfield.
All-star student
While looking forward to his boxing debut, Ramirez is still able to juggle his education and his love for boxing all at the same time.
After he spends three hours, three times a week boxing, he also wakes up early and runs with his brother Sunday mornings.
"I am pretty much working all day, to be honest. I wake up at 6:30 a.m., pray and get ready, go to school, get out of school. Then I do homework right away and finish all my stuff so my grades can be good," Ramirez said, "At six, I come to the gym and after the gym, I might go run or eat dinner. I might do some more homework right after, too."
After his first semester at Klamath Union, Ramirez earned all A's, only having one B.
Ramirez has been a star student since he could remember. He has ambitions of one day becoming an architect.
"I have not been obligated but I know I have to do it. I want to be the best version of myself," Ramirez said. "If I do not get good grades, I am putting a bad point in my life and cannot take it back. I want to be 100 percent the best wherever I go."
He will become a Klamath Union graduate in the year 2025, following the footsteps of his two older siblings, as well as his mother, Nora, who graduated as a Pelican in 1998.
A proper diet
Two weeks before his first fight, Ramirez started a strict diet, which his older brother made for him. Alen Ramirez had to mature from a young age, not by his own desire but because of circumstances. At the age of seven, he was diagnosed with type 1 diabetes.
He had to grow up with people taking things lightly on him, thinking he was delicate because of his condition. When he got older, Alen Ramirez wanted to make sure he was aware of what he was going through.
He took nutrition and health classes to know exactly what could help him as a diabetic. What he has learned, he has brought it to help his baby brother as well.
During the stern two-week diet, Angel Ramirez brings his own homemade lunch to school, which his brother prepared for him. Alen Ramirez lets his brother know what he can and cannot eat to help keep up his energy and avoid a probability of getting sick.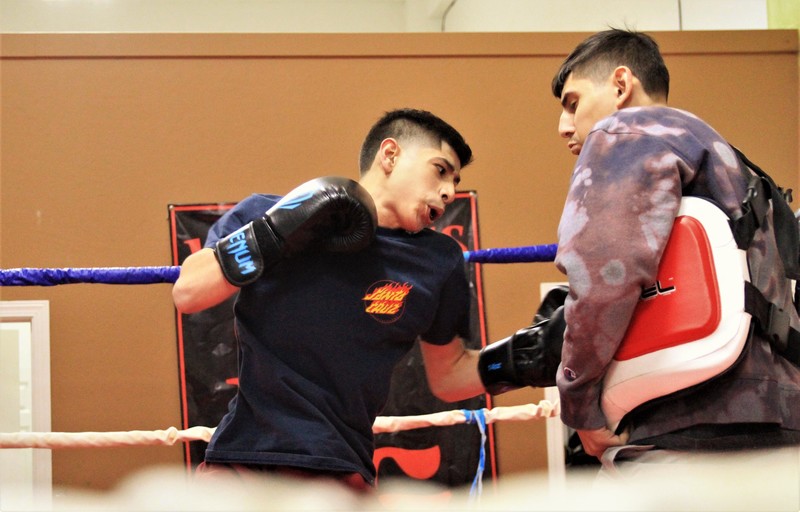 Angel Ramirez, a freshman at Klamath Union High School, prepares for an upcoming fight in Medford on Feb. 18. Ramirez trains three times a week at Weapons Grade Academy of Boxing and MMA in downtown Klamath Falls.
Uncles of the brothers continually ask when Ramirez fight will be, supporting him after they spent time training and fighting when they grew up. Even with all his supporters, there is no doubt who wants him to succeed most.
"I do not think it is my dad's dream or uncle's dream. I think it is more of my dream that I have brought to him because our parents, they have worked a lot their whole lives. It was something I always liked to do," Alen Ramirez said. "Our fighters you see today like Canelo (Alvarez), Ryan Garcia, you see all these people come up and they are young. That is always something I have wanted in our family, not necessarily for me but to see my brother do that and progress is 100 percent what I want."
Growing up at a young age
The older brother and younger brother relationship is something Angel Ramirez has always valued since he could barely hold a memory.
With both their parents having to work difficult jobs that started early in the day and ended late at night, Alen Ramirez had to look after his younger brother, babysit and cook for him at the age of eight years old.
"We cooked eggs. It would not be microwaved Ramen. We cooked something good, made pasta, quesadillas," Alen Ramirez said. "We learned how to cook pretty quickly, even if you got burnt a little bit. We all did."
The two brothers' mom and dad came to the United States from Mexico at 13 years old. Their parents met in the Klamath Basin, and eventually married and had four children.
Angel Ramirez, right, throws a right-handed jab against his older brother, Alen Ramirez, at Weapons Grade Academy of Boxing and MMA in downtown Klamath Falls.
It was a known story of a hard-working family that had to provide for their children and needed to rely on their older kids to look after the babies.
"You would not expect an 8-year-old to know how to cook and having to babysit," Alen Ramirez said. "Our kind of help to our parents was staying at home by ourselves and take care of ourselves. That has been us since eight years old."
It was not always the plan to be absent or to always be devoted to work. Nora Ramirez took college classes after she graduated high school but had to drop out after realizing she too had to provide for her family along with her husband.
From there, an inner discomfort arrived for the siblings.
"Times were hard. I remember having to wait at school until 6:30 p.m. sometimes, waiting for one of my parents to pick me up from school," Alen Ramirez said.
Walking so you can run
Angel Ramirez remembers small glimpses of what he went through at the age of three. Getting dropped off at the house of a stranger early in the morning panicked him. Hardly being old enough to mutter the words to say if he was hungry, or if he was too warm, wishing he could let his unfamiliar babysitter know his thick jacket was burning him up, were all glued in his mind.
Ramirez, however, knows why now.
He knows everything he went through was worth it. He knows his parents and his brother's sacrifice, all the blood, sweat and tears, was worth it.
The long nights, working more than being home, was not a choice; it was a requirement.
Now, it is his time to give back. It is like a popular TikTok, which talks about someone walking and going through exertion for Peppa, a known animated pig, to run.
Ramirez is old enough now to appreciate what his family has done for him. He knows why he is where he is right now. Ramirez is Peppa.
"It is not just his (Alen) dream but it is my dream to be a pro one day," Ramirez said. "My body feels the pain. I love this sport to the point where I want to do it for a long time. That is one of my dreams to travel around the world to box. I know where I have come from. I am here because of everyone else before me. I fight for them."
Aguilar-FloresJ@kfalls.k12.or.us