Fourth and fifth graders at Roosevelt Elementary School participated in a significant day in the school's history Monday.
Many years or decades from now, walking up from the front entrance of Roosevelt, you will see two Yoshino Cherry trees parallel of each other after a special ceremony was done.
It became official, April 25, was the date for this year's Arbor Day celebration after the official proclamation was signed by the Mayor of Klamath Falls, Carol Westfall.
The ceremony was filled with poems by Roosevelt students, sharing rhymes about trees. Later, with the help of the Community Relations Manager and Urban Forester of the City of Klamath Falls, John Bellon, the new tree, donated by the city, was planted.
One by one, students took turns and scooped dirt into the hole which surrounded the new Yoshino Cherry tree.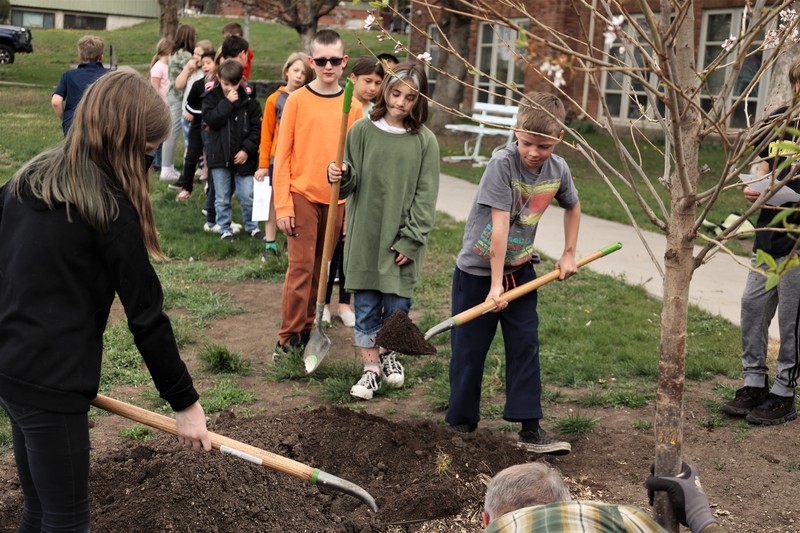 The history of Arbor Day dates back more than a century.
Originally in 1872, the Nebraska Board of Agriculture established a specific day to be made for the planting of trees.
Arbor Day was first observed with the planting of more than a million trees in Nebraska.
The Klamath Falls Arbor Day has had a rich tradition as well.
Oregon's Arbor Week is the first week of April but Bellon and several city officials, with the weather being unpredictable, have had the difficulty finding a set date for the celebration.
According to Bellon, Arbor Day in Klamath Falls plans to be celebrated the final Monday in April.
"One of the reasons for that is because, many times, the county commissioners are available that morning. They were not invited this year because Todd Kepple (Klamath County Museum Manager) did not think to ask them about it," Bellon said. "Last year, they came and I read an Arbor Day proclamation before the board of county commissioners, thanking them for their participation and thoughtfulness about trees."
Bellon has been at every Arbor Day celebration since he has lived in Klamath Falls 25 years ago.
The first Arbor Day celebration dates all the way back to a tree planting at the former Riverside Elementary in 1905, the year Klamath Falls was incorporated.
"Part of this is a requirement to remain certified as a Tree City USA, which is a national program through the Arbor Day Foundation," Bellon said. "You have to have a celebration and plant a tree and have an urban forestry program and expand two dollars per capita towards trees in your city."
A visit from the Mayor
Arbor Day Foundation has made its way through Klamath Falls City Schools and the Klamath County School District over the years but also has planted trees at the Klamath County Circuit Court, and even in places where many people would not think it would be a great place to grow a tree.
Bellon has made a focus to plant trees under powerlines in various places throughout the city.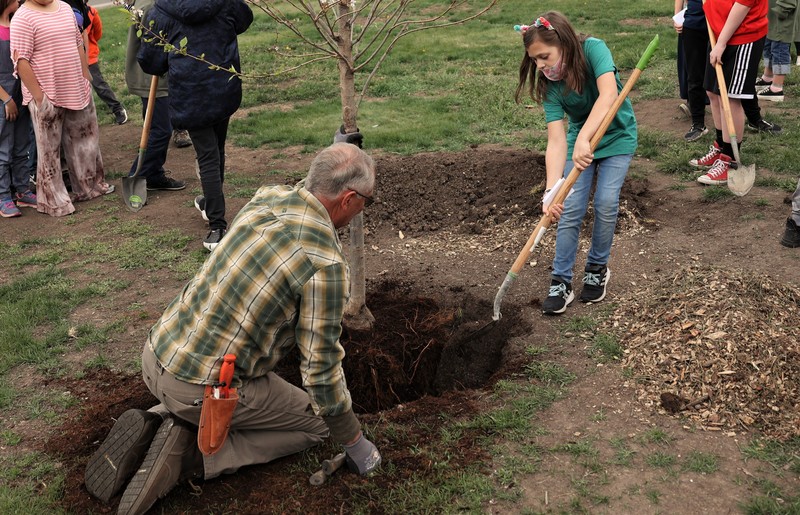 "We have planted trees on the right of way by Esplanade (Avenue) right off Crater Lake Parkway under powerlines to show sometimes trees that are planted under powerlines grow too big and then they have to be topped and it is bad for the tree," Bellon said. "You take those out and put trees that are more suitable to grow, mature and not up into the powerline where they have to be reduced in order to not make contact with those energize conductors."
During Monday's ceremony, students at Roosevelt were well aware of the history of the trees that surround their school.
11 years ago, a pine tree was planted on the right corner of the school, a day Bellon assisted with.
The fifth and fourth grade students were urged by their teachers to help the younger students at Roosevelt understand their new Yoshino Cherry tree should be well maintained.
The students thanked and waved at Mayor Westfall as they headed back to their class, with even one student waving his hands up and down, bowing to show gratitude toward the Mayor.
Arbor Day holds a special place in the heart of Mayor Westfall, who has attended every ceremony since she became Mayor in 2017.
"My kids went to school here at Roosevelt. When we first moved here, my son was involved in planting a tree by the courthouse. Every time we drove by it, he was like 'that is my tree.' That is what planting a tree and getting the children involved does; it gives them ownership that this is their community and that they have their own tree," Westfall said. "It is a lasting memory. So many times, you move away and there is no connection. When you come into a town where you have planted a tree, you say that is my tree. He (Sterling Westfall) is an adult now working here and it still is his tree."
Aguilar-FloresJ@kfalls.k12.or.us