A 20-year tradition is alive and well at Pelican Elementary School.
A longstanding May Day tradition at the elementary school has always been a strong custom.
This past Friday, just in time for May Day, kindergarten and first grade students at Pelican skipped their way to the surrounding neighborhoods of their school and handed out May flowers to show appreciation for their community.
Kindergarten teachers Lenora Grounds and Katie Ogborn, along with first-grade instructors Shannon Kappas and Catherine Meyer, took their students around the block to meet their Pelican Elementary neighbors.
Unfortunately, the tradition was put on pause the last two years.
In previous occasions, kindergarten through third-grade students have participated.
"We had one person say, 'I do not have any money.' And we told them it is a gift," Ogborn said.
Ogborn has been a teacher at Pelican for seven years and has participated in the event for five, while Grounds has taken her class 12 years.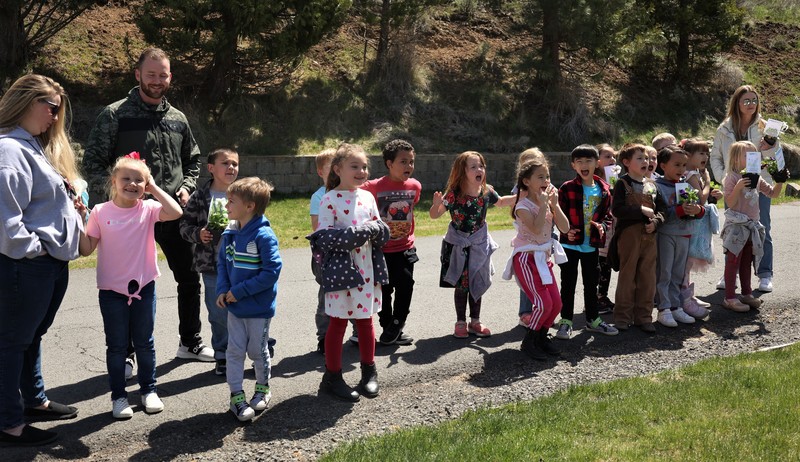 Kappas and her first graders encountered retired, former Pelican instructor Sally Clark on their trip.
"Every flower had a card that read happy May Day from your friends at Pelican Elementary," Kappas said. "We found a neighbor we knew, a former teacher here. I told Sally, come out here and take a picture with us. It was very cute."
For Meyer's class, it was a unique opportunity to take part in something new.
"It was our first field trip we went on," Meyer said. "My student, Kierstyn Wert, and I, encountered a lady who came out of her garden to thank us. She had been missing us from last year she said and she was so excited to see us."
Meyer described receiving countless thank you letters from those who received a May flower and even had some of the school's neighbors send out a book for the students.
The original idea
The idea to start the May Day tradition dates back to when former first grade teachers at Pelican Elementary, Stephanie Dahm and Maureen Lundy, first took students around the school's neighborhood.
Dahm now teaches fifth grade at Pelican, while Lundy works at the Klamath Falls City Schools District Office, but both cannot forget the first May Day trip they went on over two decades ago.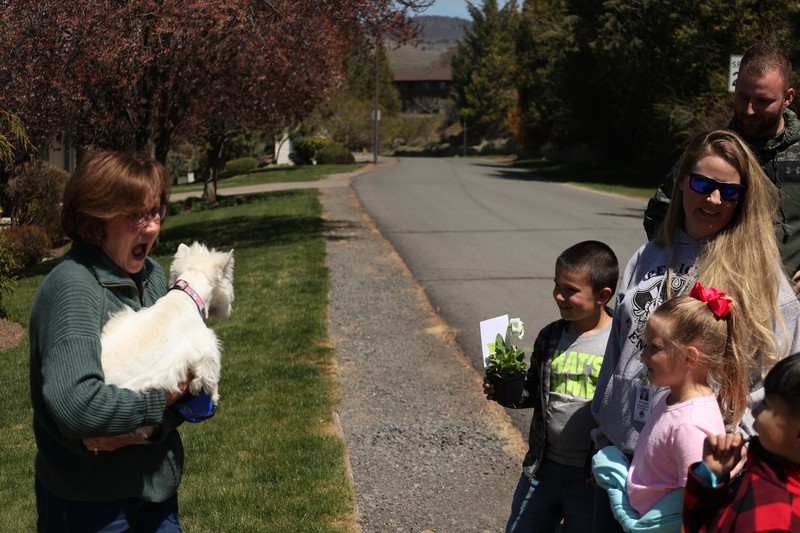 "Maureen, I know could tell you the exact first date. May Day was a really big deal to me as a kid growing up," Dahm said. "I went to Riverside Elementary and our teachers always did May Day projects, so it kind of developed a love for May Day for both of us."
Dahm and the rest of the fifth-grade class are busy with testing around the time of the May Day flower handout or else more classes would make the trip.
Dahm and Lundy's tradition is one of a kind.
When she was in elementary school, Dahm, did not go door to door to hand out flowers, but brought home crafts to her family.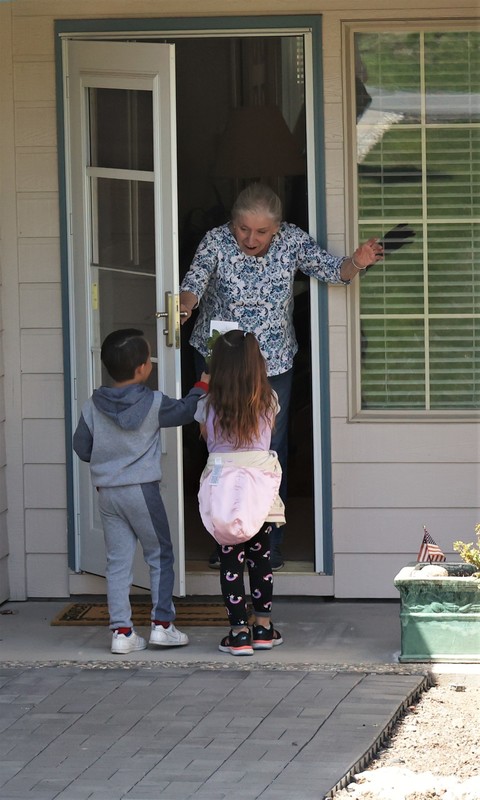 The May Day flower delivery became the former partner teacher's adaptation to give back.
"We have continued the tradition here ever since," Dahm said. "Even though she has moved to different buildings, I have moved different grades, it is something we felt was a really great way to reach out to the community and thank them because we have a lot going on over here. We have had people wait outside for us, even one family wait with a box of cookies. It is a reward for us to give back."
Aguilar-FloresJ@kfalls.k12.or.us