Klamath Union knows cross country.
Longtime cross country and track and field head coach Rob Coffman has had a long tenure of leading star cross country teams since he has been coaching the Pelicans.
This year was no different. Coffman helped the Pelicans to back-to-back girls cross country district championships.
KU had a strong showing in this past week's OSAA Class 4A Cross Country State Championships at Lane Community College in Eugene. Juniors Isabela Coffman and Carter Harmon excelled and both the placed in the state meet, each coming away with eighth-place finishes in the 5,000-kilometer run.
Isabela Coffman's eighth-place finish in the girls race helped the Pelicans place fourth in the team standings. Behind Coffman in the competition was Aubrey Syrnyk, Eleanor Rodriguez, Grace Keyser, Hazel Squibb, Lina Stanfield and Kara Johnson, respectively.
Coffman completed the race in 20 minutes, 17.6 seconds, a race of 103 runners.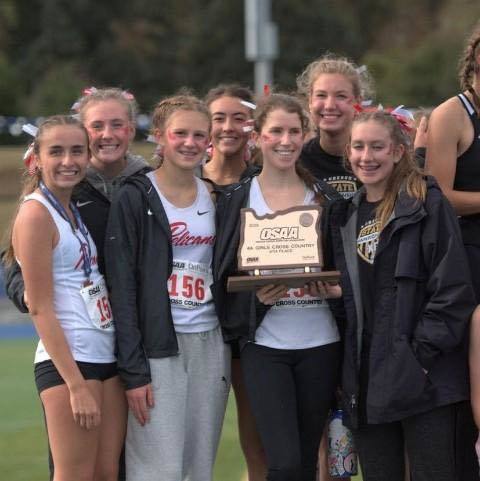 In the boys run, Harmon's time was 16:45.4 as the Pelicans placed 10th as a team.
Finishing after Harmon for KU was Bryce Peterson, Damien Hunt-Plummer, Connor Olsen, Isaac Barnes, Connor Carlson and Micah Gaede, respectively.
Reaching her goal
The state competition was the first time the two juniors reached the podium. Unquestionably, the most difficult moment was a slope runners had to embark on near the end of the race.
The terrain at Lane was notably difficult and started out on 100 meters of turf field before going up a 50-meter steep hill. The runners then had to run on bark chips, around a pond before having to go up an even taller hill, then taking a long loop around the pound before finishing off at the college's track.
"The hardest part was finishing on the track. I visualized myself on the track because it finishes as a 300 so we have done a lot of workouts to prepare for that," Isabela Coffman said. "I had to dig down deep there and think about everything I have done in order to get to that point."
Coffman said she knew the top four, five spots would be difficult to grab but knew she had a chance to attain any spot after that.
She was aware of her surroundings, knowing she had a runner, who specialized in 400, 800-meter runs, right on her tail.
She was poised and determined to carry out a goal she sought out for since she began her training this past summer.
"I had a goal all season to get on the podium at state. My dad and I, my coach, had a plan that we knew four or five girls would just take off and I had no shot at those spots. We knew there would be a pack of us going so I led that," Isabela Coffman said. "I realized that more as I got tired, you always want to slow down but I told myself I have come too far to give up now. How much more can I hurt than the girl beside me."
Coffman said Lane was the hardest race mentally she was a part of because of the pressure of being in the state tournament and said a race at Moore Park was the hardest race she did this year.
Her junior season has been her biggest jump at state after finishing in the top 20 her freshman year, a shortened six-week season due to the COVID-19 pandemic, and ended in 19th last year.
To help her grow physically, as she was in vacation in Utah this past summer, Coffman trained with Pine View High School for two weeks and worked on her conditioning and weight lifting.
Coffman admits one of her role models is her older sister and KU graduate Nicolette Coffman, who ran for Dixie State University and now runs at Utah Tech.
"I look up to her a lot as a figure to know with hard work there can be success … and from my dad, seeing all the time, countless hours he spends on this sport and what it means to him, along with my grandpa. I have seen all that and the success they've had."
The top Klamath Basin male runner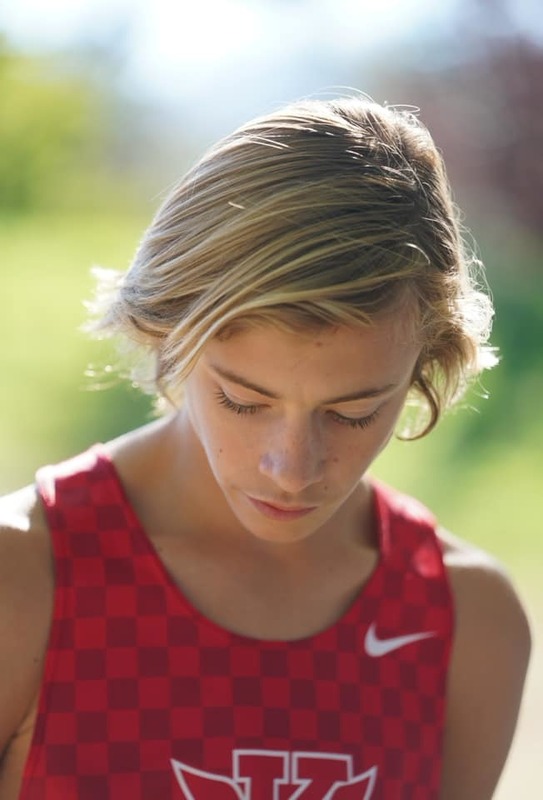 Harmon too was caught off guard by the steep hill before the run down to the track in the state meet. The top male KU distance runner, however, left the final race of the year with plenty to look back on.
"After the first mile, people caught up and it was harder to race and after the second hill, it went downhill from there and started getting tired," Harmon said. "I thought I did well though and was not mad about how I finished."
Harmon envisions his best finish next year as he took 11th place a year ago in the state competition.
One of Harmon's personal highlights this year was beating the second-best male runner in the Klamath Basin, Grant Bohannon of Hidden Valley.
At the district meet, Harmon beat Bohannon by three seconds.
"My mindset is the reason for my improvement. For the district meet, I stuck with Grant the whole time and passed him. He was my biggest, not enemy, but competitor," Harmon said.
He also learned a lot from some of the little things he had shared with his team and coaches this year.
The team added various stretches and did small speed hurdles at the end of practices, which Harmon knew helped him. He admitted, through his running career, going through the discomfort of side cramps, which at a moment, was a low point he faced.
"It all started in fourth grade, some of my friends were joking around saying we were going to do the 1,500 since it was the longest race; it was almost a mile and it was crazy to us. I thought, why not and I excelled in it and decided to keep going."
It was in sixth grade when Harmon began to take long-distance running seriously, and at districts that year, beat a competitor by one-hundredth of a second to earn ninth place.
"It gave me the confidence to improve and be the best," he said. "I had a low point in my career but received advice from my coaches and parents, now here I am."