There might not be a better Christmas gift than the gift Klamath Falls City Schools 21st Century Community Learning Centers Center Coordinator, Kyra Morris, is planning to give this holiday season.
Morris leads the after-school program at Roosevelt Elementary School and has been busy the last month with the desire to bring a heartwarming activity to her after school students.
Morris, a renewable energy engineer major at Oregon Tech, came across an activity she could bring to her students through one of her classmates, Bronwyn Hoffman.
Hoffman's mother works at OHSU Doernbecher Children's Hospital and specifically works in the NICU, which stands for neonatal intensive care unit.
Hoffman and Morris together take a speech class at Oregon Tech which requires them to work in small groups. Hoffman mentioned to Morris about her mother's job working in the NICU and how there is a need of having blankets to cover the incubators from the harsh lighting at the hospital.
It was then when it clicked for Morris on how she could have her students help.
"I was like, hey, I run this after school program and on Wednesdays we have this extra hour and I can use it as a way for my kids to decorate and make customized blankets," Morris said. "To personalize it instead of a bunch of 20-year-old college students coloring fabric."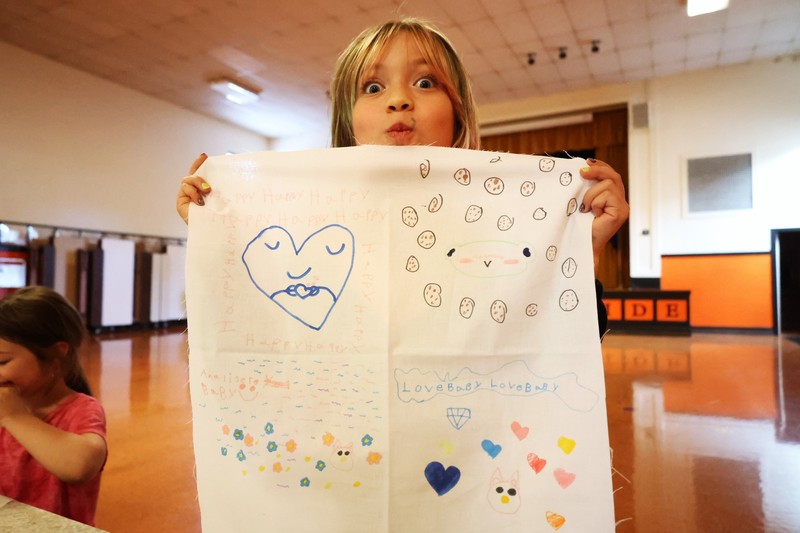 From there, Morris began planning, and took a dedicated amount of time cutting out fabric, seven yards total, for her students to begin the project.
Morris decided to have Roosevelt's second through fifth graders in the after-school program take part in order to make the blankets look presentable. Morris wanted her students to do their best but the dilemma came on how she was going to explain what the blankets were going to be used for.
"It is hard to tell the little ones that these are for babies that are in the hospital and are struggling," Morris said. "I told them 'these are for the babies who were born early so they need a little extra time. We are going to make these blankets so they can take them home with them when they are feeling better.' I wanted to make sure they understood what they were doing."
The message was easier to tell the school's fourth and fifth graders.
"Their parents are really struggling; it is a hard time when your child is in the NICU. I told them the blankets needed to be appropriate and wanted them to show some empathy," Morris said.
Morris' students grew anxious and constantly asked her when they would begin the project weeks before their first day writing and coloring on the blankets.
A message from the heart
The students' messages on the fabric were heartfelt. Some students wrote simple messages, encouraging the babies and other students drew images and drawings. The fabric itself did not have stitches but the coloring and images left by the students appeared like a design or stitch.
The activity meant something more to Roosevelt student, Kati Jones.
Jones, a 9-year-old, herself was a premature baby. Her message will be forever felt for whoever receives her blanket.
"Hi, I am Kati. I was a NICU baby too! Now I'm 9! Love Kati," Jones wrote.
Just in time for Christmas
Morris' Oregon Tech classmates London Argyle, Colton Taylor, along with Hoffman, are going to sew the blankets together before Hoffman takes them to Doernbecher during the Christmas break.
Morris intends on making seven blankets. Each blanket will be 18 by 18-inch squares. They will be sewn together to make a full 36 inches to help cover the incubators.
The blankets are not going directly on the premature babies but the parents can take the blankets home with them as a keepsake.
"That is why I wanted them to write messages so the families can keep them. It would be so cute if my kid wrote, oh, hi, it is me. 10 years later, the kid is like 'I remember I got this blanket from Calvin or Kendall from Roosevelt Elementary School.' I want it to be special," Morris said.
Sadly, sometimes the babies do not survive but the parents can still take the blankets home with them.
"It is nice to know a bunch of kids are rooting you on," Morris added.
Among having a difficult engineering major, a writing minor, running the after-school program and working during Oregon Tech sporting events, Morris has not complained or rethought what she is doing.
"It is three jobs in of itself. It goes by quickly if you love what you do … that is why I love being here. It is a lot of work but the kids make it worth it to be a little stressed once in a while," Morris said. "I know all of the kids. I love them so much. They are my favorite little people ever. I love seeing my favorite people wanting to help other people."