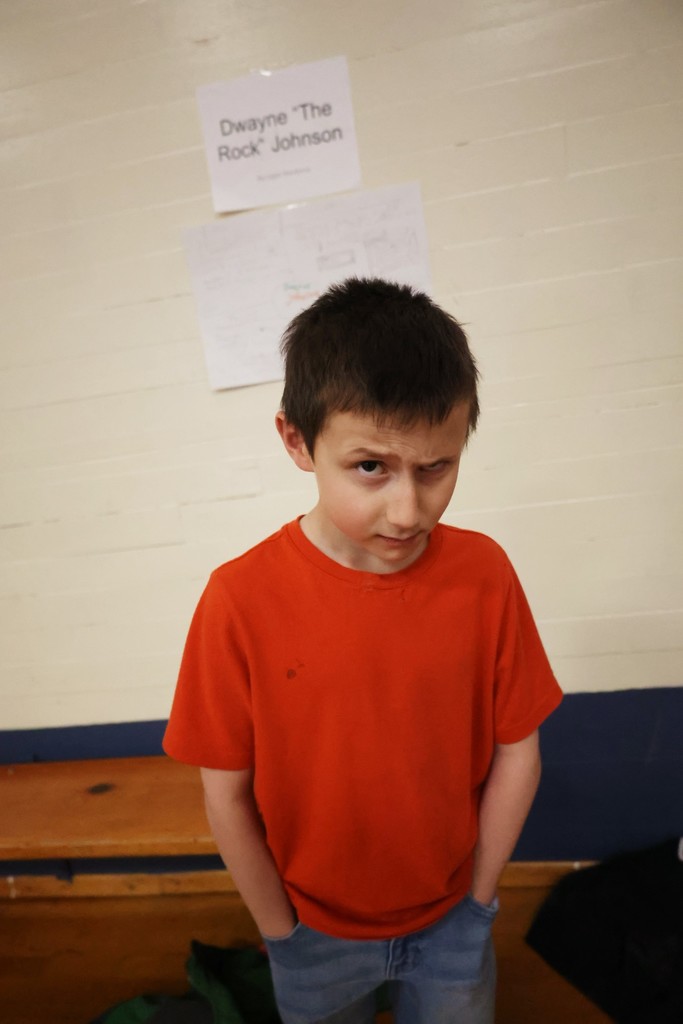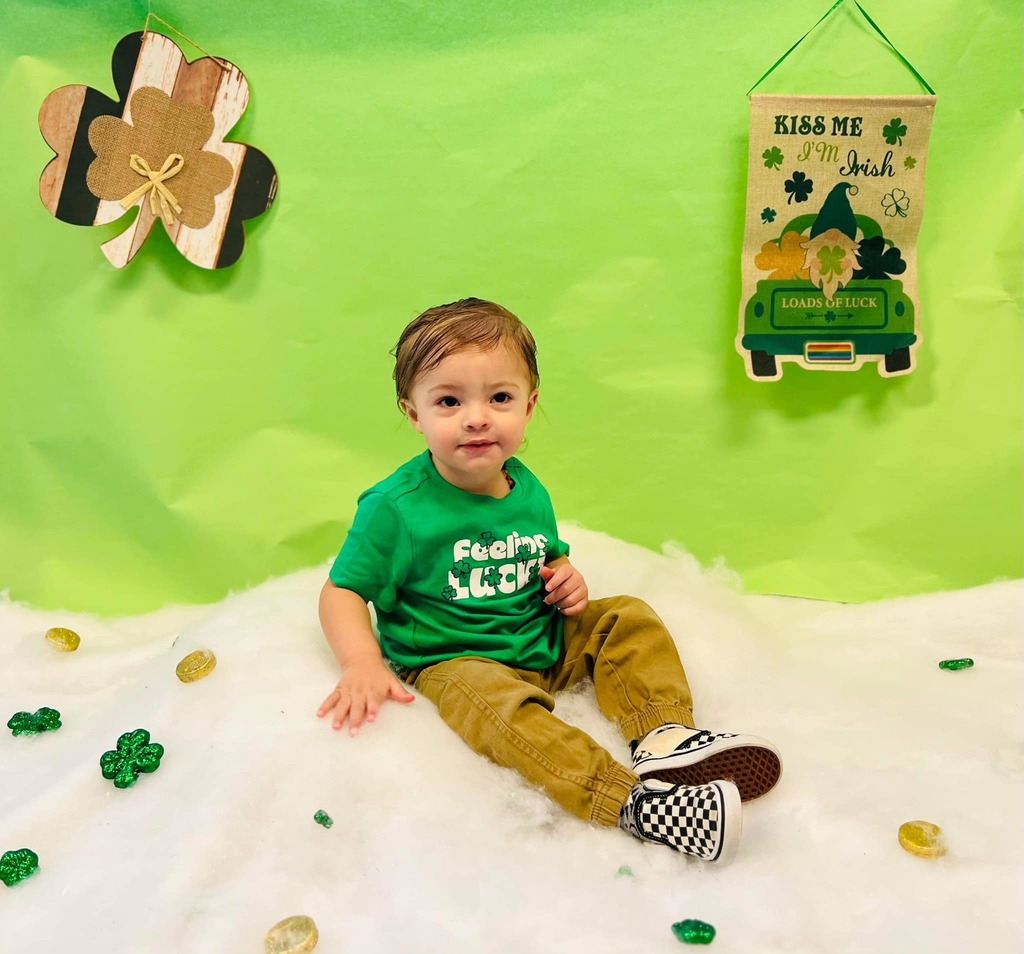 Congratulations to Klamath Union High School juniors, Mia Hidden and Cassidy Bogatay for their winning entries into the C-SPAN Student Cam documentary contest. Both students received Honorable Mention for their films along with a check for $250. This year, C-SPAN received almost 3,000 film entries representing 40 states, Washington, DC, Kenyan and UAE. Students were asked to create a 5–6-minute video imagining they were a newly elected member of Congress, and sharing the issue of what would be their first priority to address, and why. Cassidy Bogatay tackled the issue of water in the Klamath Basin with her film "Water: Beauty of the Basin." Mia Hidden's film "Flowers that Fly: Saving the Monarchs" documented the loss of the butterflies in Oregon and the steps needed to address their survival. Both films finished in the top 4% of all entries. Congratulations to both Mia and Cassidy! Interview questions from, Mia Hidden What was the best part of making your C-SPAN video? My favorite part of my film, and the process that it required, was the connection to my video. It was something personal to me, something that really matters, and something that I wanted to make aware of to my community. It's a serious issue that needs voiced, and I took it on with open arms. It's such an important topic to me personally, and getting to bring my ideas to life, as well as bringing a new light to climate change through such a well known butterfly, was truly rewarding. What is the one thing you learned about filmmaking when you finished your video project? My film, Saving the Monarchs, has been my biggest project yet. There was a lot of stress involved in getting this project completed and meeting the expectations I had set for myself. This project is not something I took lightly as it had several strict guidelines that I had to meet. Throughout this process, I learned how to pace myself and how to create a project of this density. It's something that I had trouble with at times, where I was stuck and didn't know what to do next. It's going to be hard, and that is something I had to learn to be ok with, because it'll set me up better for the projects ahead of me. What do you plan on doing next year in film? After learning what I did this year in my StudentCam project, I'm already lining myself up with projects to help broaden my horizons and learn more in this growing field. I have plans for next year's C-SPAN project, I'll be filming several documentaries on my Hawaii Advanced Media Trip, as well as applying for a grant to film our local bald eagle populations. What I love most about doing Video production is walking into class faced with a brand new project that I get to lead. It's a way to voice what I have to say, it's an art form really, and I cannot wait to see what other projects I get to be a part of this upcoming year.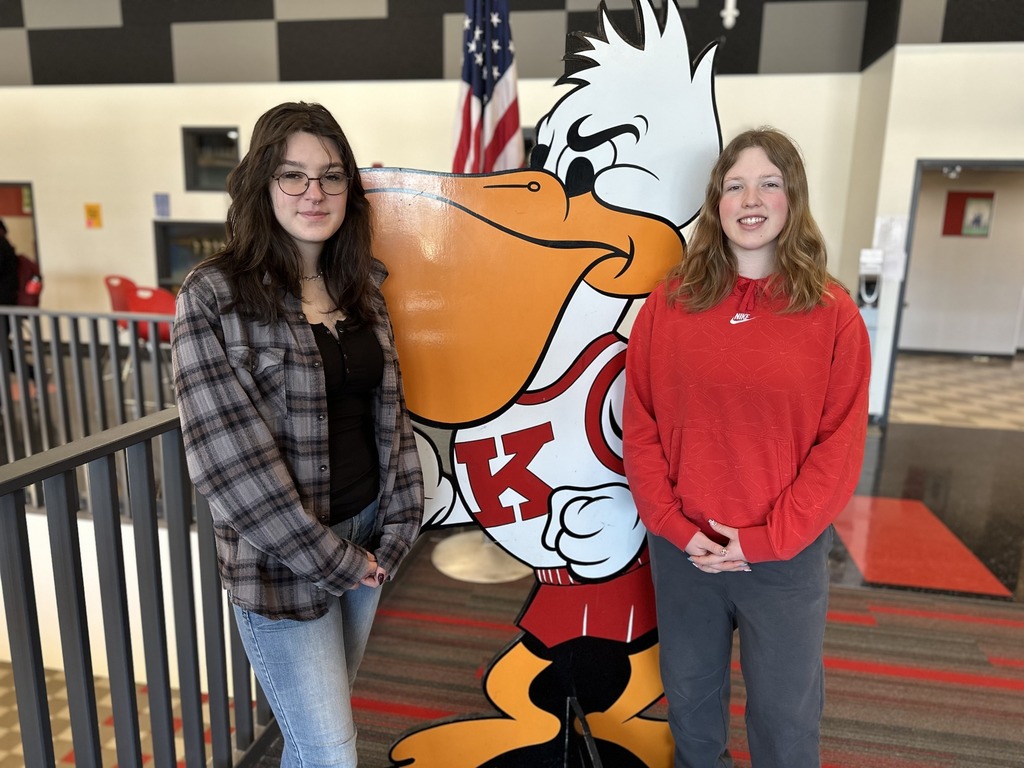 The future of food service has begun at Klamath Falls City Schools and came to Klamath Union this past Tuesday when students were able to have a small sample of what lunch time will be like in the near future. An ecstatic group of Klamath Union students were chosen to sample select new food options coming to Klamath Falls City Schools in the coming months. One of the options, buffalo chicken wings, were a hit. Stir fry beef and veggies were also some of the options. Thank you to Chef Ryan from Walker Quality Services and President of WQS, Alfred L. Walker III, for visiting Klamath Union.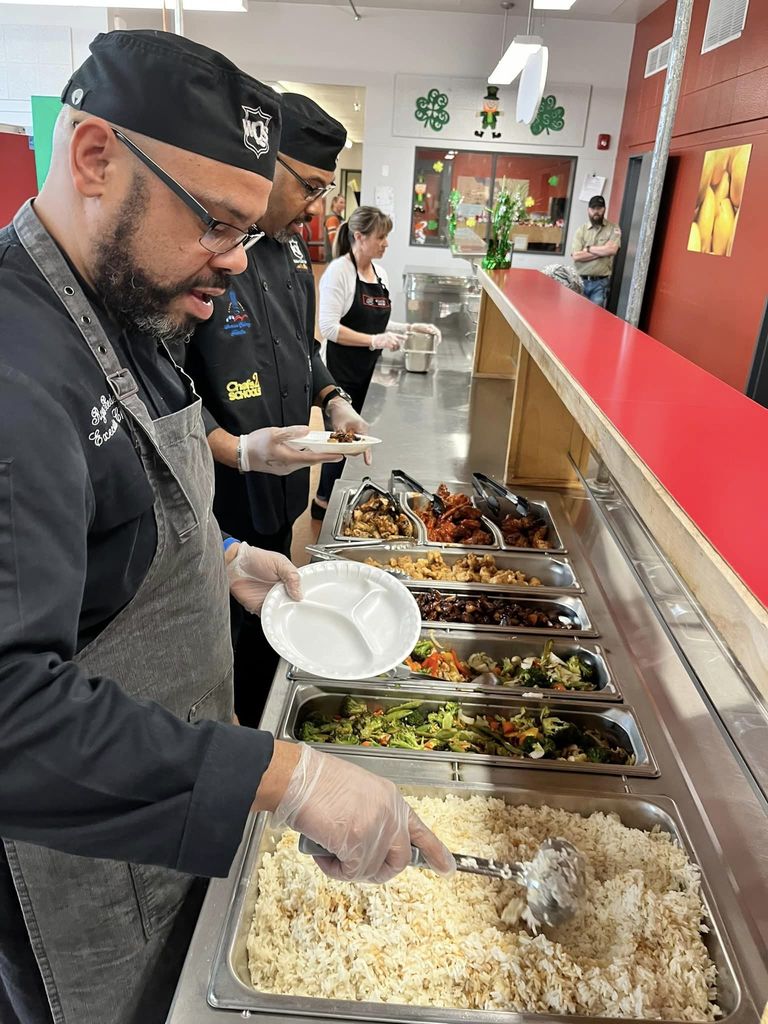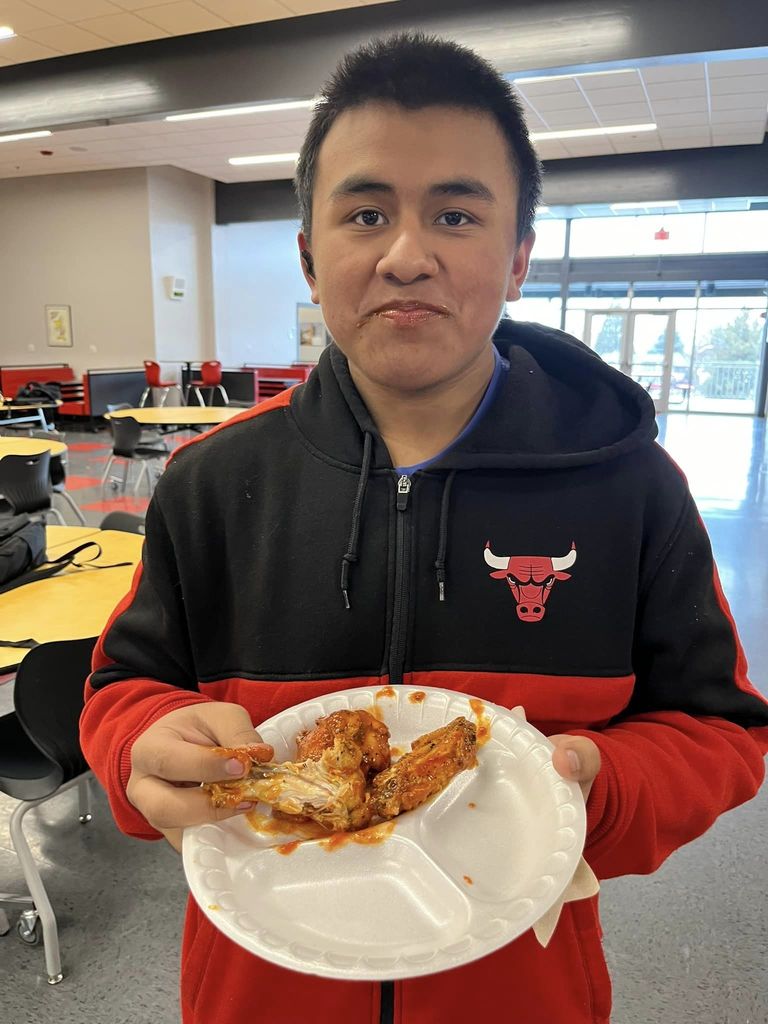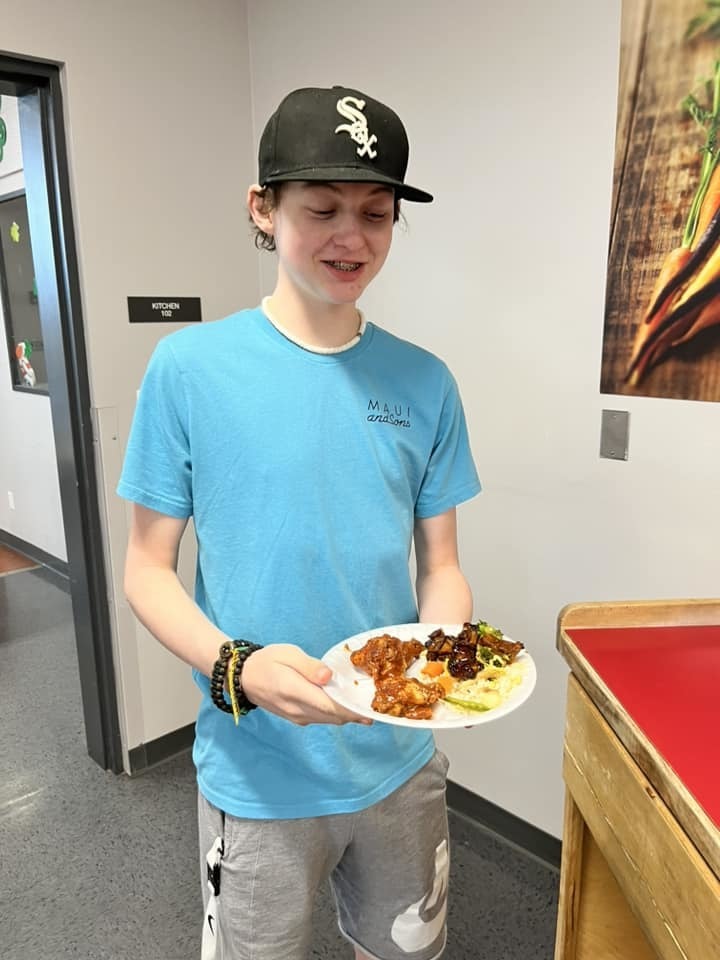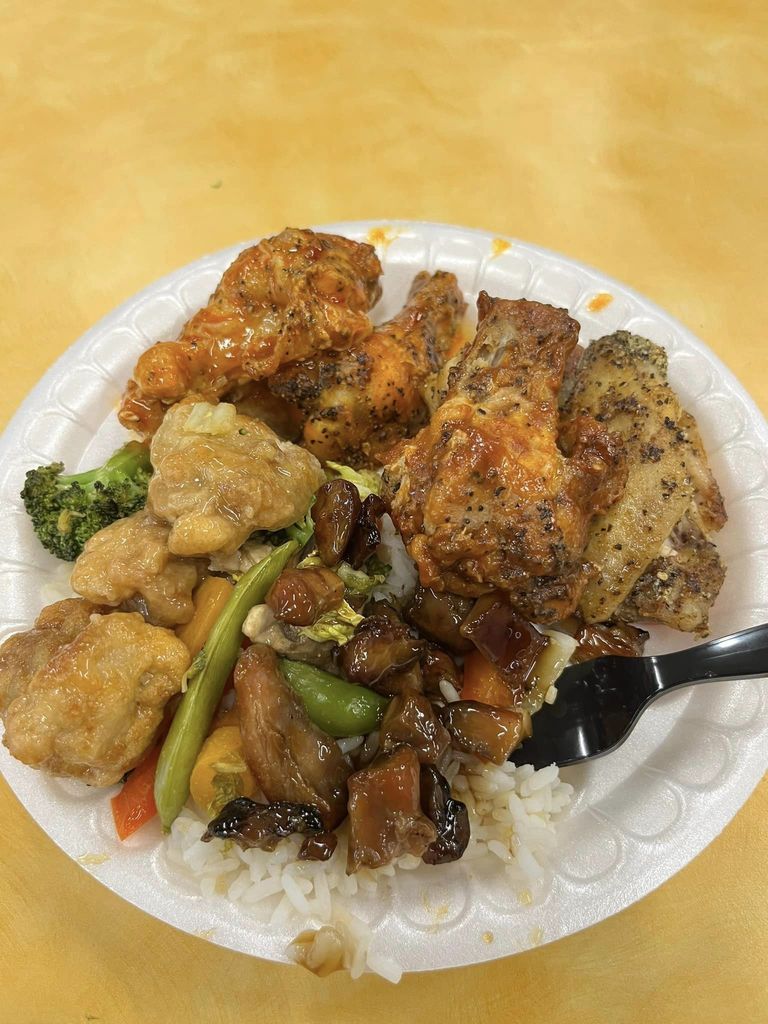 Happy Classified Staff Appreciation Week! Look for a mention about classified appreciation week as well as countless other district events to come and a message from Superintendent Keith A. Brown in this week's KFCS News Flash:
https://www.smore.com/q1642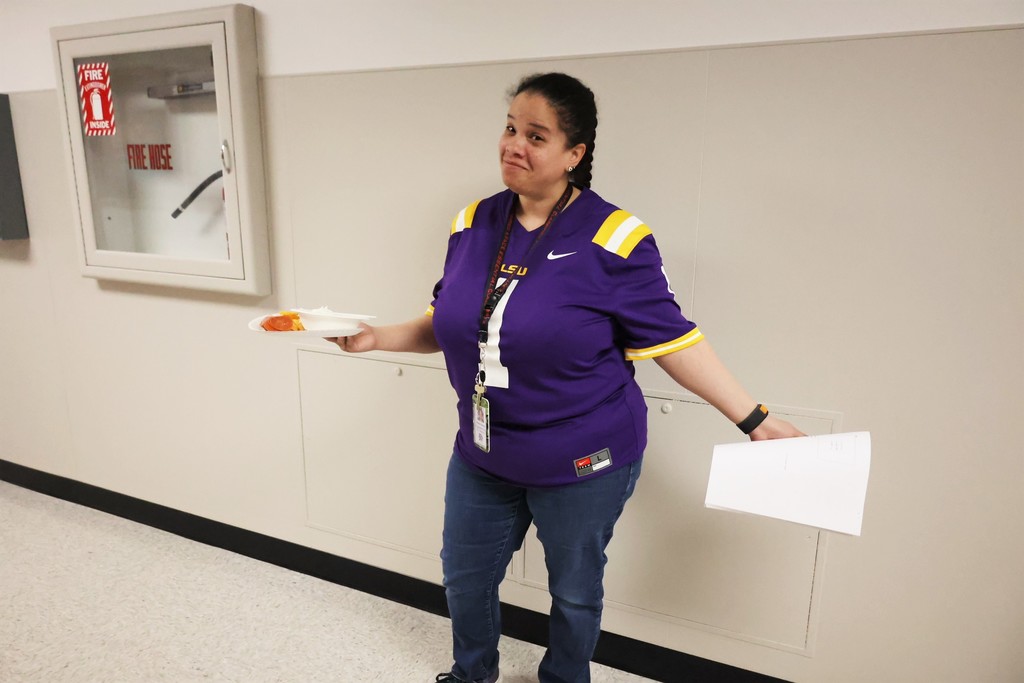 SAVE THE DATE! Incoming 9th Grade Information Night! Tuesday, March 21, 2023 at the Klamath Union Cafeteria & Theater. Course Selection Presentations will be offered in the KU Theater at 5 pm, 6 pm and 7 pm. Spanish translation will be available during the 7 pm session. Come choose your classes for next year, go on a tour of the school and see what awesome programs and activities KU has to offer!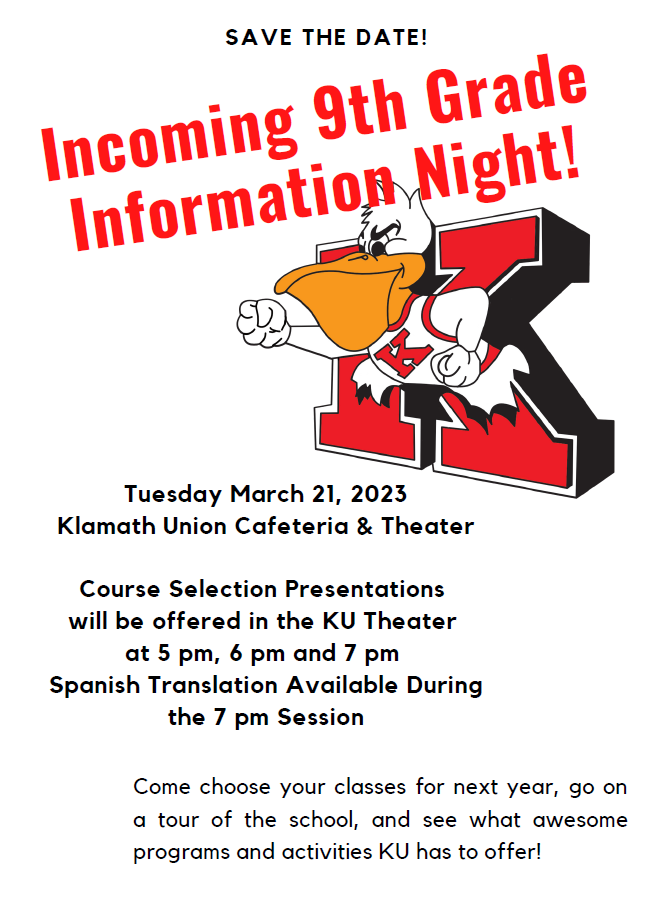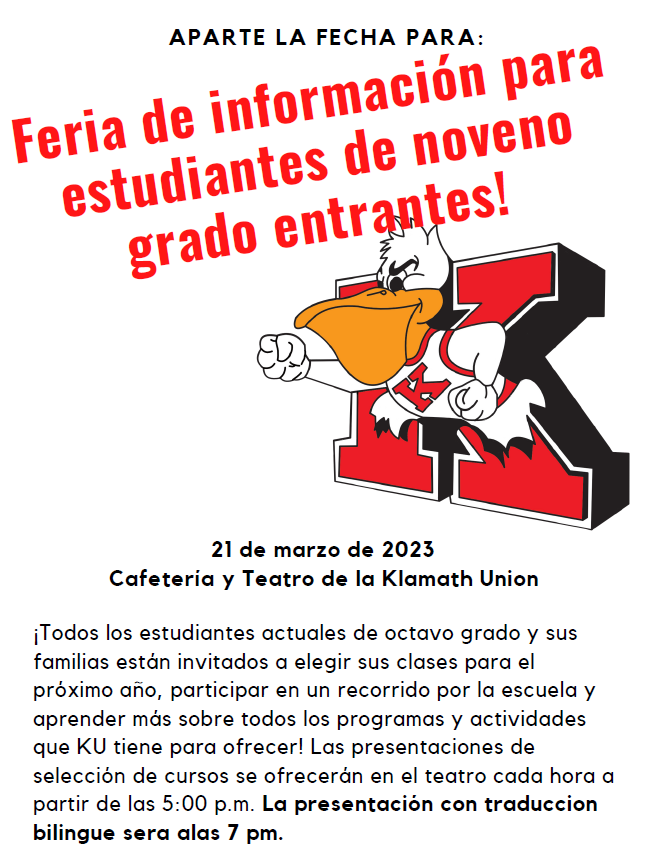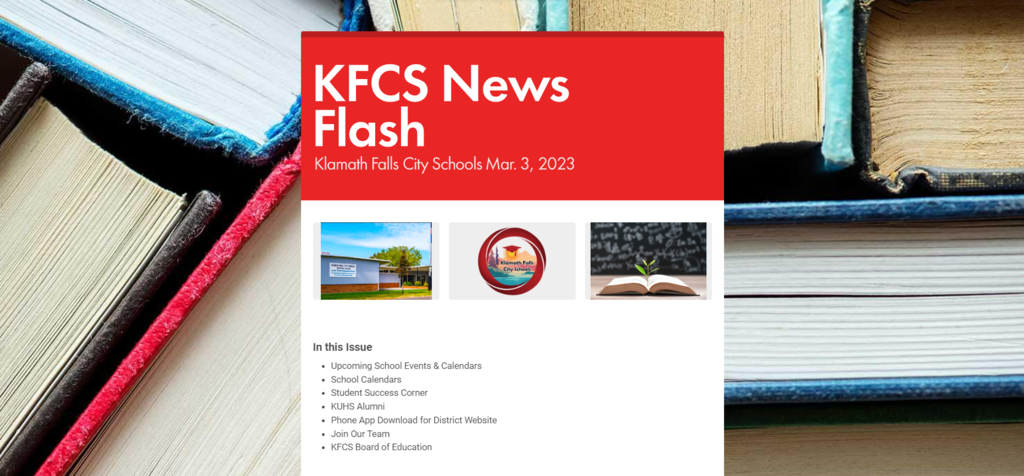 This Saturday, March 4 will be an opportunity to watch some Ice Hawks hockey and support the KU 2023 Senior Celebration.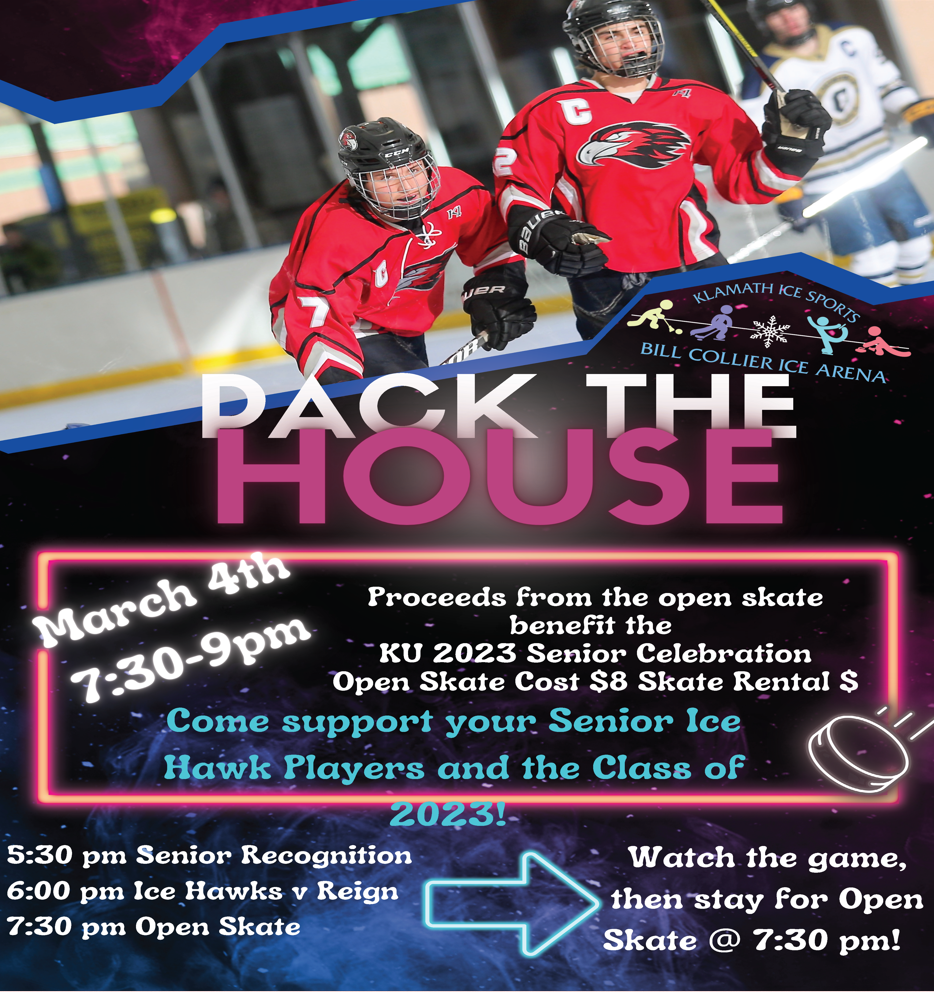 Want to become an assistant football coach at Klamath Union? For more information and to express interest, please contact Andy Campbell, Head Football Coach at
KUPelsFootball@gmail.com
with a brief description of your experience with the game of football, your coaching experience, and position(s) of interest. We currently have paid stipend and volunteer positions available depending on experience and commitment availability. We will be looking to do interviews the first part of March. Come be a part of building something special.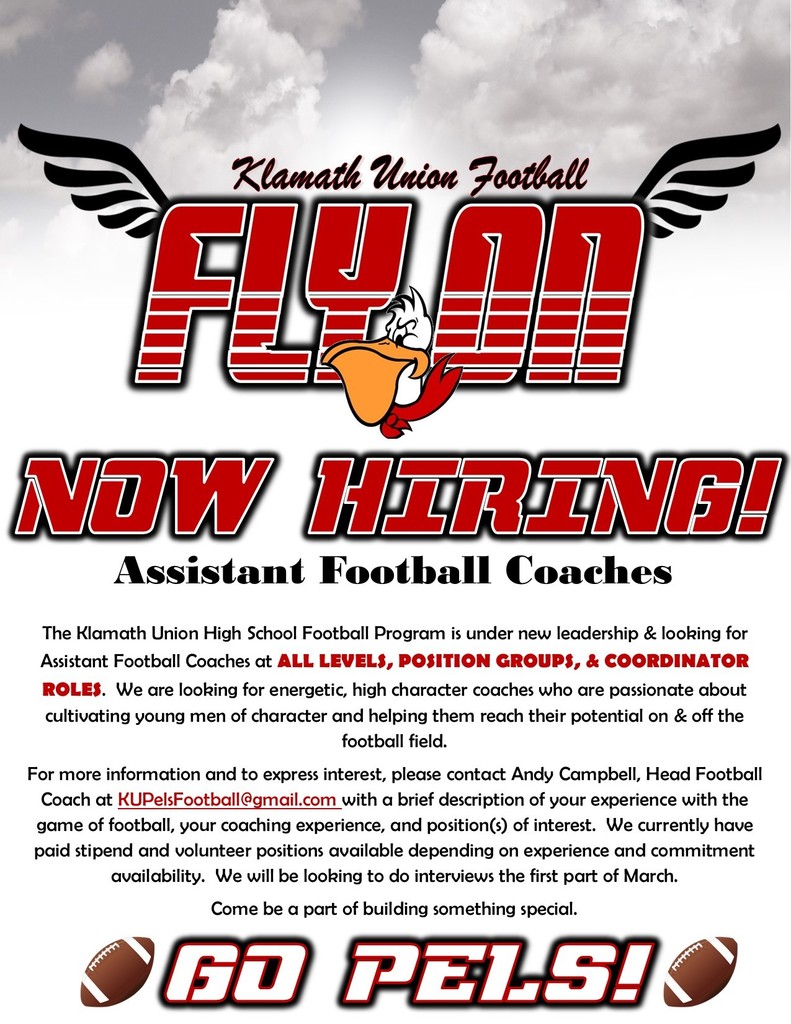 Want a chance to win $5,000 in cash. You only have a few weeks to buy the few remaining Aloha Raffle tickets sponsored by KU Advanced Media. Money raised goes towards student costs to the Starseed Ranch located on the Big Island of Hawaii. The week stay will include doing video and photography work for the ranch as well as afternoon and evening adventures on the island. Get your tickets by calling Dan Stearns at 541-891-7511 or by email
stearnsd@kfalls.k12.or.us
. There are less than 100 tickets left available so hurry and contact Mr. Stearns. The Raffle will occur on March 10th, Pel Court at 12-noon.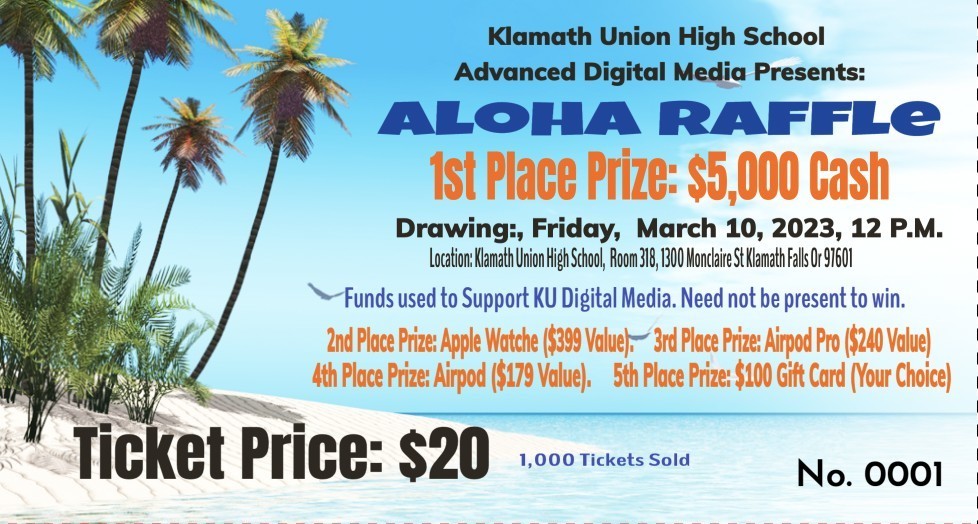 KU Boys Basketball will be taking on Stayton this Friday at 6 p.m. at Pel Court for the first round of postseason play. Be there and show your support! KU Girls Basketball is heading to Stayton for a 3 p.m. Saturday state playoff play-in game.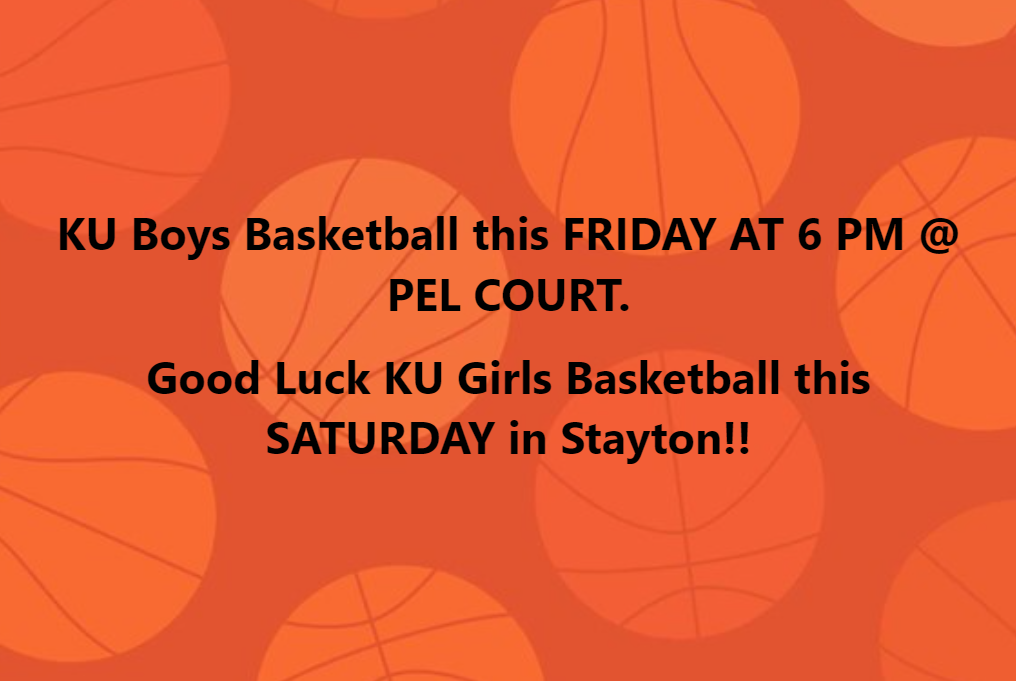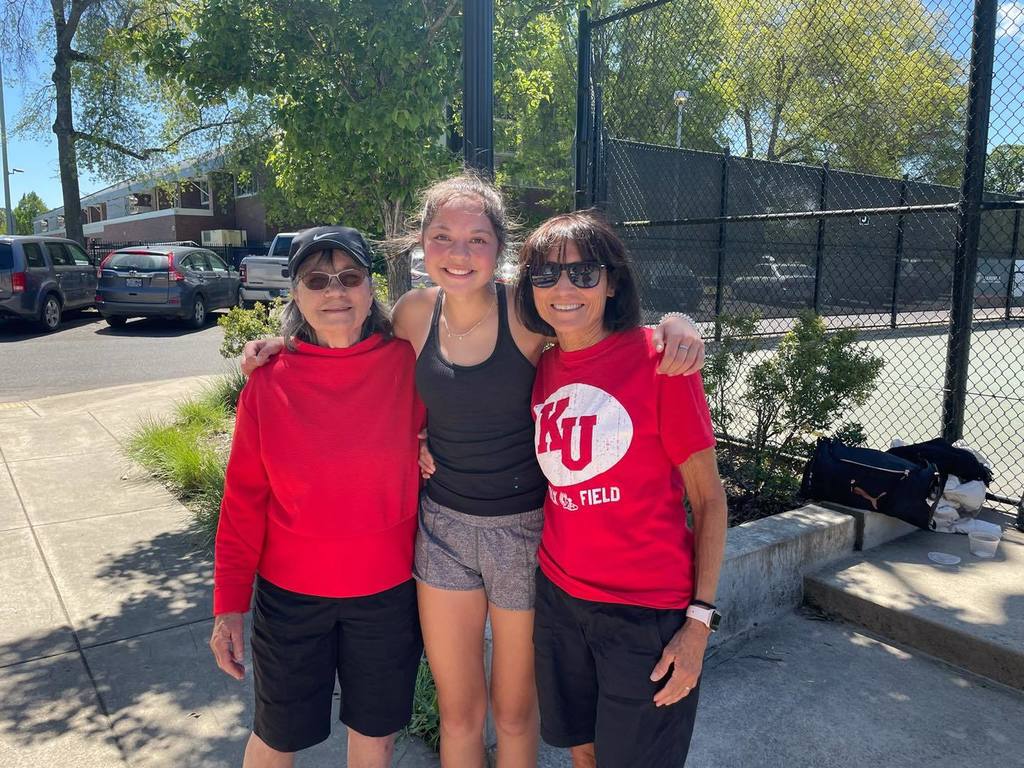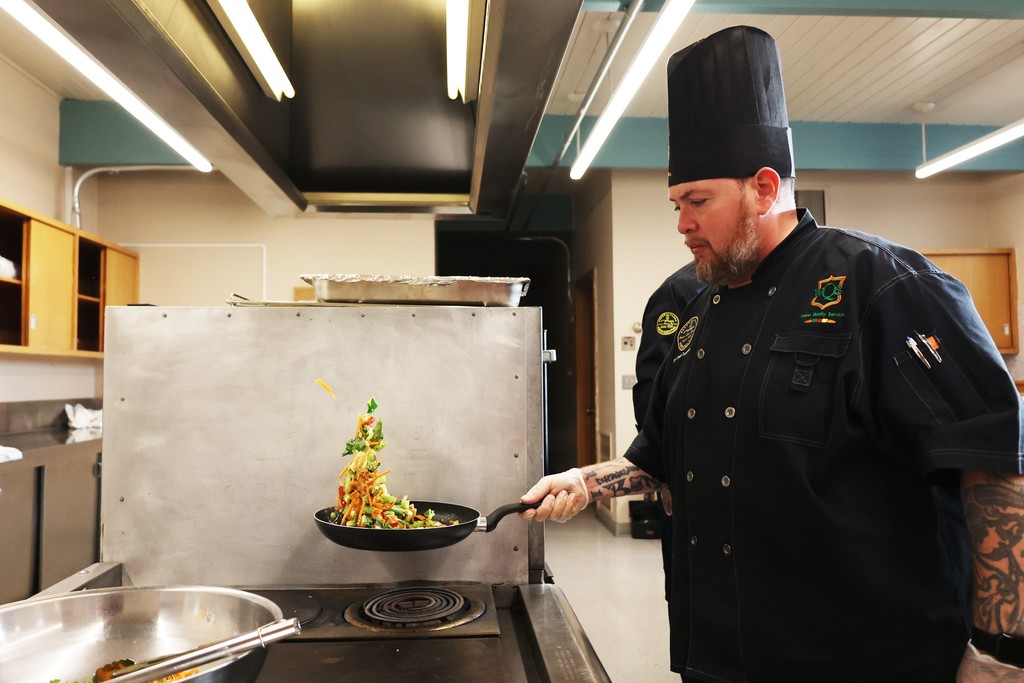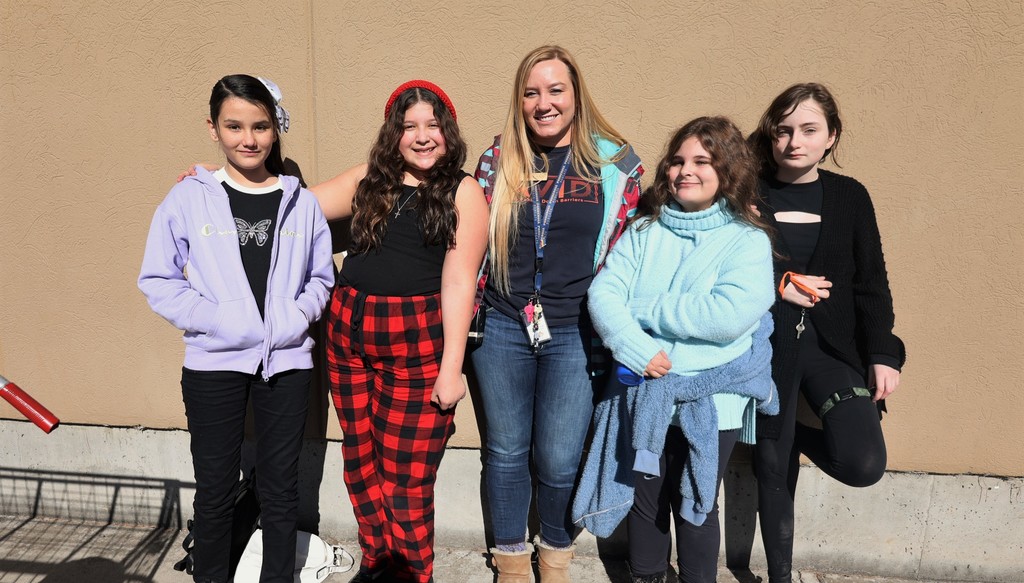 You are invited to participate in our survey to help us plan for the Klamath Falls City Schools' Title VI Indian Education program. In this survey, you will be asked about future services, activities, and offerings from the program for our students and community. Your response is kindly requested by Friday, February 10, 2023. Here is the link for the survey:
https://form.jotform.com/KFCS/title-vi-survey-2022-23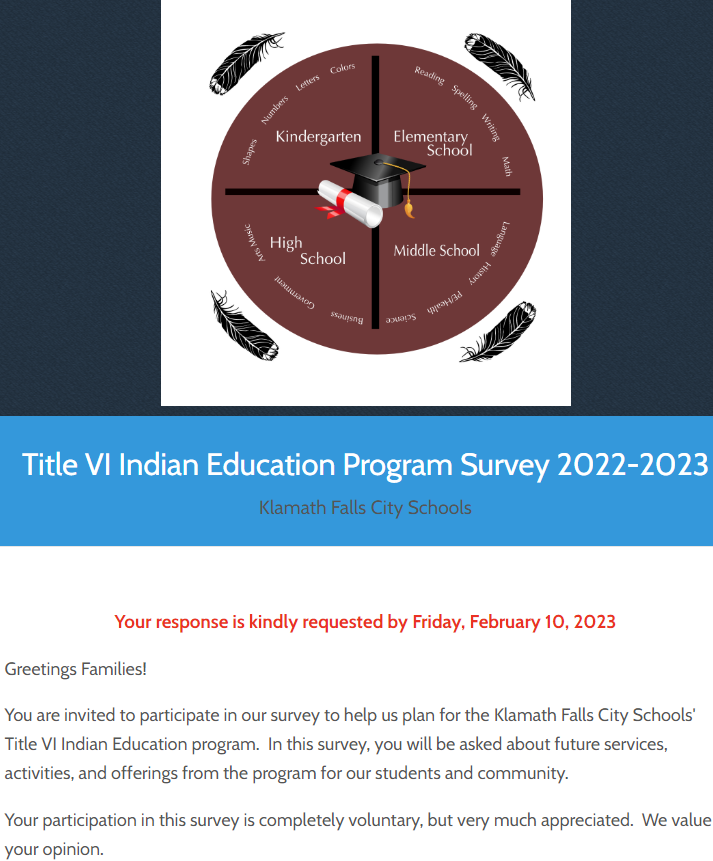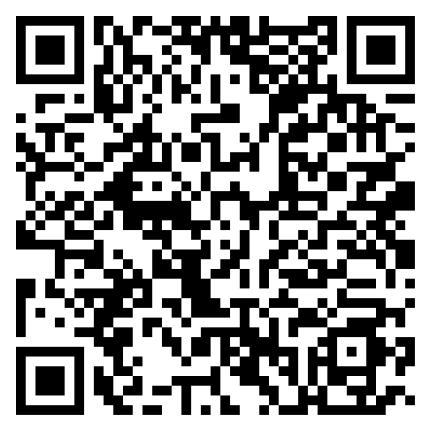 Ponderosa PTO will be putting together two events this coming Monday. How to Navigate Social Media - Creating Guidance + Awareness, will be a special presentation for all Klamath Falls City Schools and Klamath County School District 8th Graders. The presentation will start at 9:45 a.m. Monday, February 6 at the Mills Auditorium at Mills Elementary School (520 E. Main Street). A similar presentation will be held at 7 p.m. Monday, February 6 at the Ponderosa Middle School cafeteria, with guest speaker, Alison Martin. This presentation is for parents and teachers. Dinner will be provided.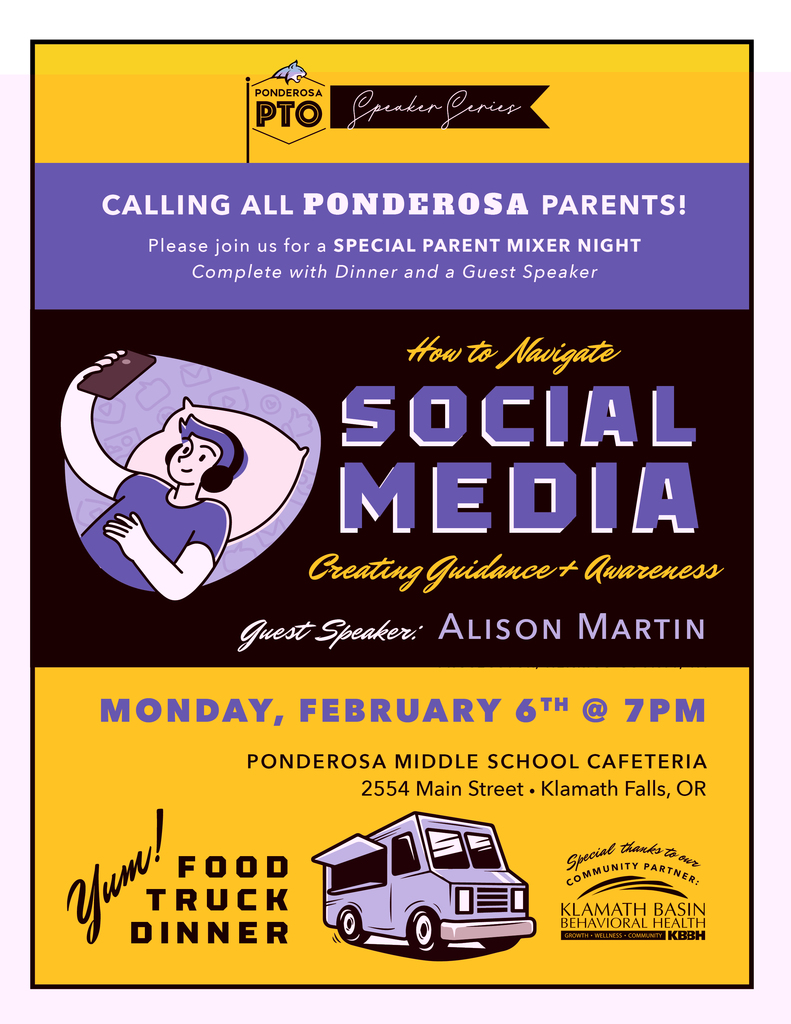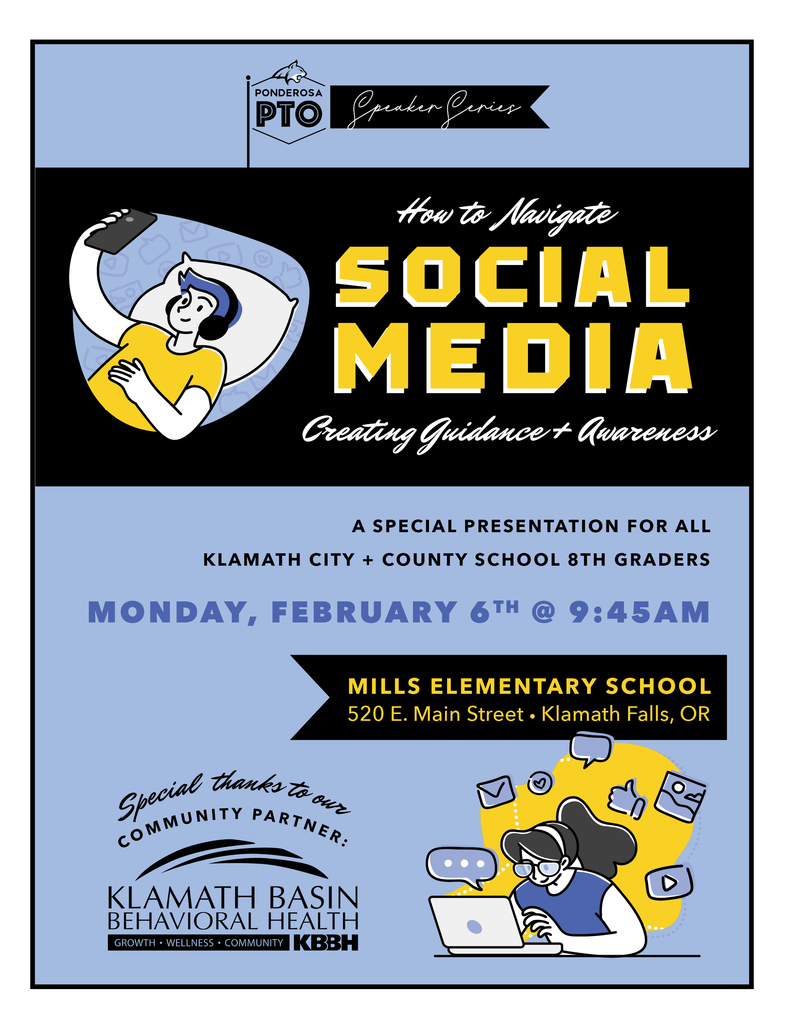 KU Culinary would love to make you dinner for February 24th! Click the link to place your order:
https://tinyurl.com/KUfebMenu
. Included are some pictures of what is available. Orders are due by February 15 and pick-up is on the 24th.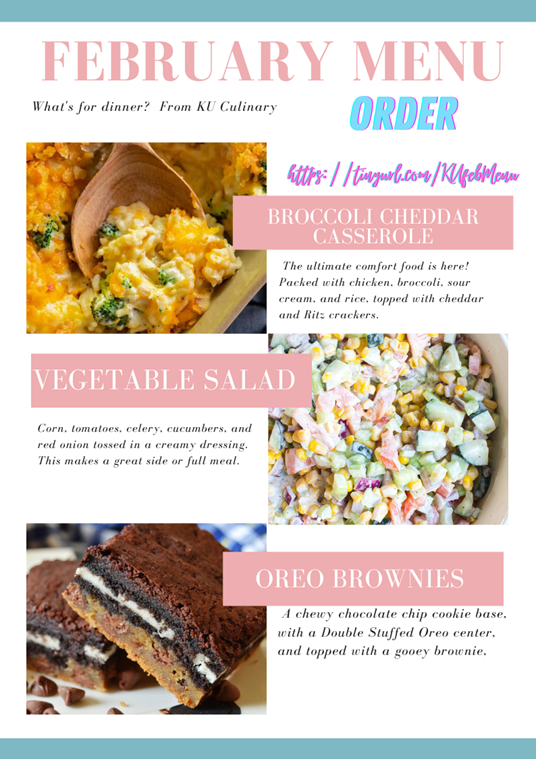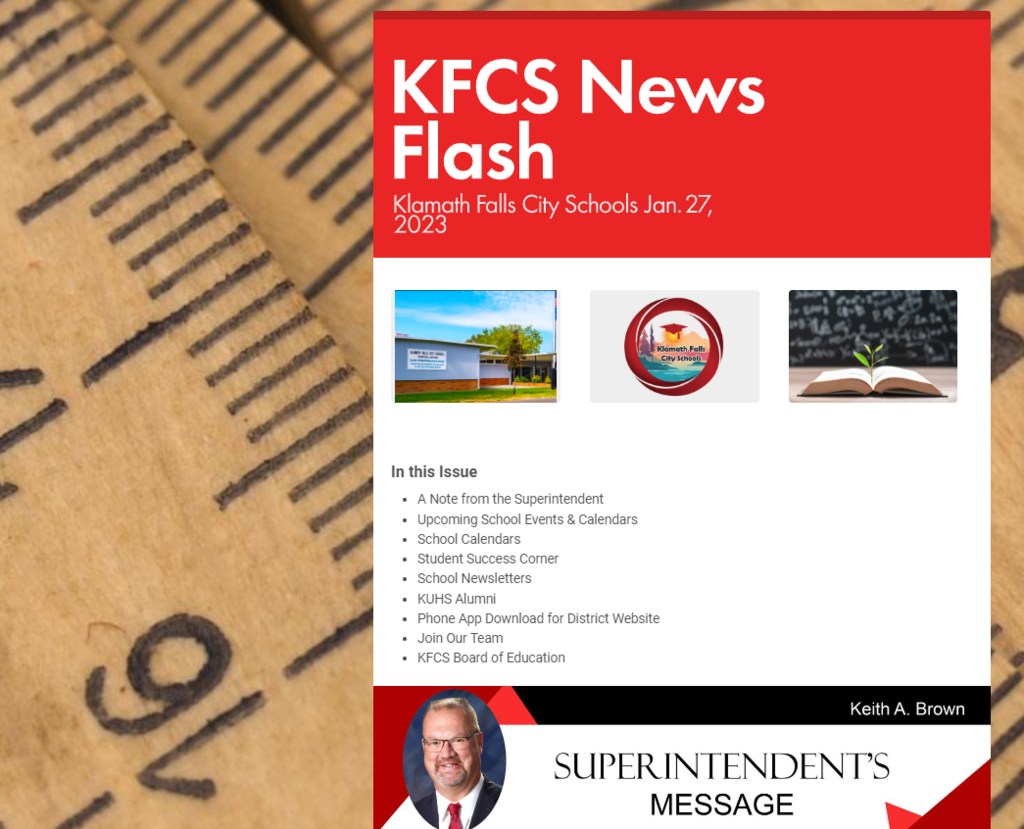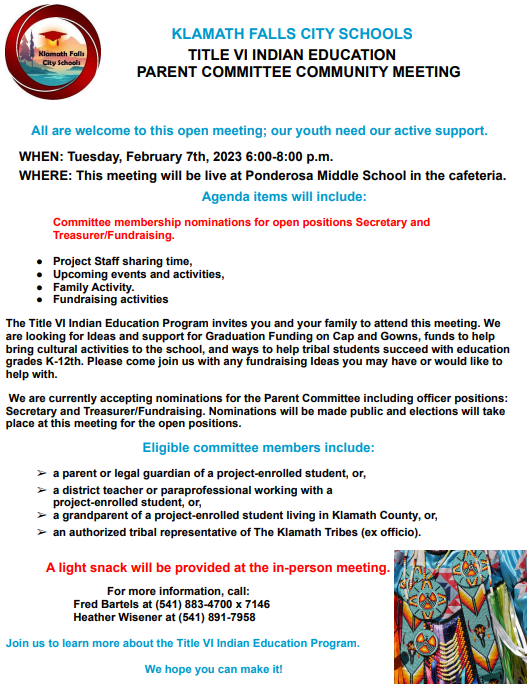 Tonight's KU girls basketball game at home versus Ashland has been cancelled.